WHAT WE DO !
Ship Chandler Abu Dhabi is a full scale shipchandler providing all types of provisions, stores, cabin, deck and engine equipment with the newest supply chain technologies as well as spare parts to the all kinds of vessels calling  Abu Dhabi port
PROVISIONS SUPPLYShip Chandler Abu Dhabi offer a wide range of fresh, frozen and dry provisions to meet the expectations of quality for cargo, navy, cruise, and offshore industries. Our awareness of all standards, strict hygiene rules at all level throughout the supply chain will be implemented at every step. Frozen and chilled products are loaded from our conveniently located cold room warehouse and delivered directly to the vessels with our frigorific trucks, without breaking the cold chain, at all ports and anchorage areas of Abu Dhabi
TECHNICAL SUPPLY
Ship Chandler Abu Dhabi keep in stock and supply various qualities of cabin, deck and engine consumables and spare parts, suitable to the budget of all operators, managers and owners. From nautical equipment to electrical cables or marine paints, we can provide everything that you need in a quick and price-effective manner.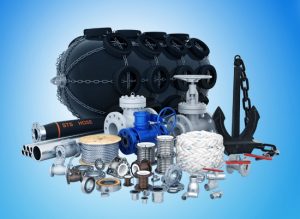 Ship Chandler Abu Dhabi
PUBLICATION SUPPLY
Thanks for looking at Ship Chandler Abu Dhabi one of the best ship publications and safety equipments supplier and services of Abu Dhabi port. Ship Chandler Abu Dhabi want to make purchasing safety supplies and servicing personal protective equipment ans work gear easy, convenient and affordable.
Ship Chandler Abu Dhabi would love to hear from you, if you don't sind products that you need call us, Ship Chandler Abu Dhabi love solving problems, if there is anyting we can help you with please don't hesitate to let us know.
Call us at +97 155 66 7 66 45 or e-mail supply@shipchandleruae.com

SHIP SAFETY EQUIPMENTS
Ship Chandler Abu Dhabi is essential for passenger and cargo vessels, offshore installations as well as fishing and yachting boats. Ship Chandler Abu Dhabi supplier with SOLAS / MED certification offering a wide range of marine life-saving equipment, for everything from small boats up to commercial vessels, including personnel transfer basket, life rafts, life jackets, immersion suit, life float & buoys, and basket stretchers.
BONDED STORE SUPPLY
By this resolution, Ship Chandler Abu Dhabi tax free was start as a company which is new but at the same time have wide experience and wide customer's porfolio. Since this date, Ship Chandler Abu Dhabi have dealt in Abu Dhabi office building, which is opposite of Ship Chandler Abu Dhabi, with modern equipments and technological infrastructure.
LOGISTICS SERVICES
Wherever your ship sails in UEA, KUWAIT and BAHRAIN ports or abroad, Ship Chandler Abu Dhabi can cope with all custom formalities, clearance, warehousing, offloading and forwarding of ship parts and equipment. Our long-acquired local experience help us to solve quickly all issues with port, customs and any other relevant authorities. Efficient and prompt service plays a key role for the success of all deliveries without interfering the operation of your vessels.
OTHER SERVICES
Ship Chandler Abu Dhabi also provides husbandry and other services such as:
GLSA & FFE inspection and calibration services.
Fresh water supply services.
Garbage and sludge removal services.
Underwater survey and cleaning services.
Dry cleaning and laundry services.
Mobile sanitary and showers for field operations.
Car, bus and heavy hauler rentals.
Ticketing, transfer services and Medevac.
Telecommunication system and mobile phone rentals.
OUR QUALITY POLICY
– To make continuous research on international and local markets for achieving the most qualified suppliers and products.
– To be in a very close and continuous collaboration with our traders and suppliers both from domestic and international markets;
– To constantly keep under control the process of delivery, storage and supply of products provided by our suppliers to our inventory.
– To strictly follow up national and international regulations.
– To train and supervise all the employees taking place at purchasing, marketing and selling activities.
– To strictly follow up HACCP regulations regarding sanitation in all our activities.
– To be loyal with the environmentalist policy of our company and accordingly evaluating all kind of waste products.
– To do the necessary upgrades in order to achieve a higher sales volume and profitability while keeping our leader position in the industry.
– To analyze any problem faced and creating permanent solutions with the contribution of new technologies in order to prevent further repetitions of same problems and approach to the level of perfect service.
– As a leader service provider company, to supply our customers at the right time, at the right place with correctly prepared goods, to realize the delivery in a correct way, to improve our ISO quality system and by this way to obtain "CUSTOMER SATISFACTION" which is the main principle and aim of our company.